Napkin Tissue Packing Machine ZB302A
Applicable
Soontrue Automatic Soft Facial Tissue packing Machine and High speed fully automatic facial tissue single wrapping machine is suitable for automatically packing V fold hand towel,facial tissue, square tissue, pocket tissues, cotton tissues etc and napkin packing etc.
Zipper closure 1/5 zip athletic pullovers for men. Stretchy, lightweight, fast-drying fabric for superior performance. REGULAR FIT - US standard sizes. An athletic fit that sits close to the body for a wide range of motion, designed for optimal performance and all day comfort. FEATURES - Quarter zip closure;Thumbholes on long sleeves to keep them in place during workout
Model

ZB302A

Packing form

Three-dimensional package

Packing material

CPP(Double heat sealing film)

Film

Packing film thickness :0.04mm;

Maximum outer diameter : ¢450mm;

Packing film coil diameter: 75mm-- 78mm;

Packing size

L:100~400 mm

W:80~200 mm

H:40~150 mm

Max packing size

L*W*H:400mm*200mm*150mm

Packing speed

25-60 Packs / min

Heating power

5.0kw

Motor power

4.51kw

Rated power

9.81kw

Power type

380V50HZ(Transformer available)

Air supply

0.5-0.7Mpa

Air consumption

200L/min

Overall dimensions

L*W*H:6310mm*4056mm*1696mm

Machine net weight

3,500 kg

Noise

≤78dB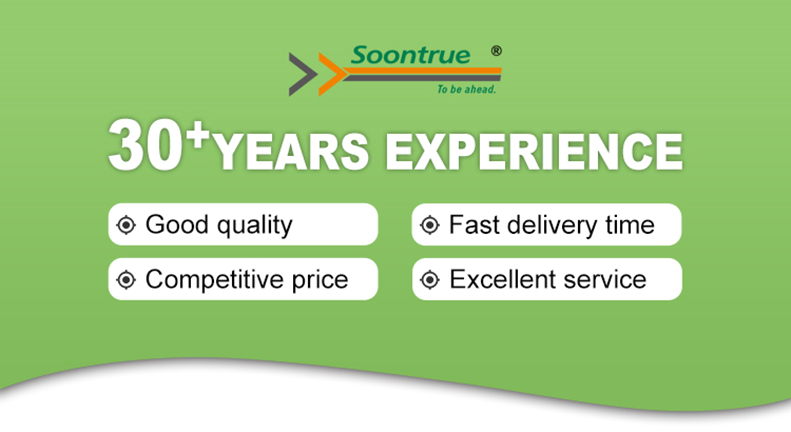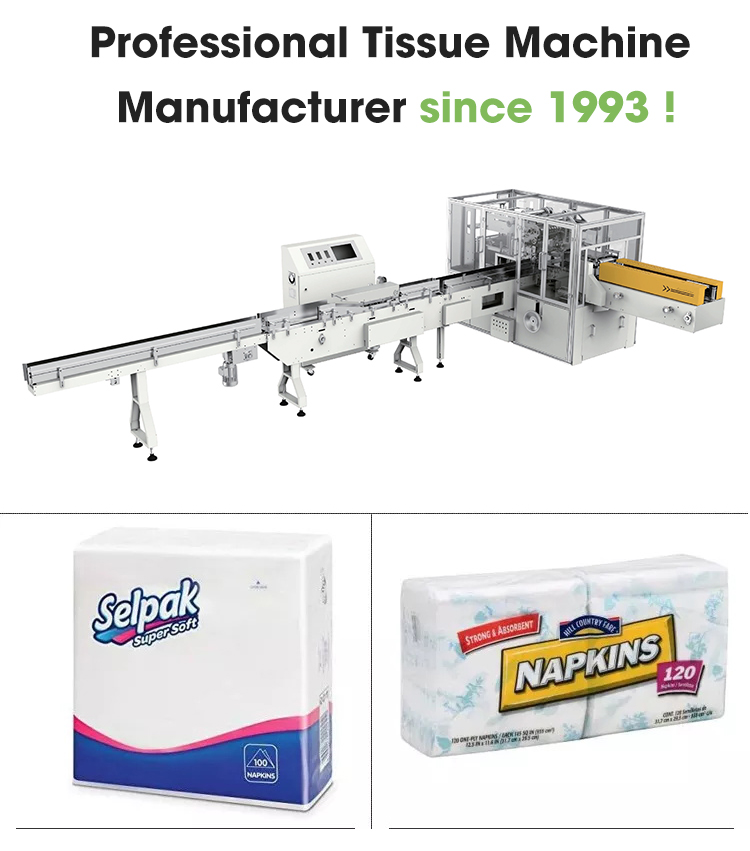 Napkin Tissue Packing Machine ZB302A

with the independent control system of intellectual property rights, and the whole machine has the torque limit protection function, which is not easy to cause parts damage;
Unique flat film design, packaging film runs smoothly, no shaking, more clear coding, more accurate cutting film;
Packaging range is wide, only a small part of the components, you can realize the packaging of towel, ultra-thin products, straight line knife, arc knife, triangle knife and other three tear knife shape can be used in this machine.

Soontrue is a professional tissue converting and packing machine manufacturer. Founded in 1993, with more than 133,500 square meters plant space and more than 2,000 well-trained and knowledgeable staff members, more than 700 of them are middle and senior technicians ; Our annual revenue reaches over USD300 million; with more than 2,000 patents to make sure our machines leading ahead in the industry.
Soontrue has 4 manufacturing bases which are Shanghai, Foshan, Pinghu, and Chengdu factories, Not satisfied with our achievements in China, over the past few years, we have successfully provided solutions and services for our customers in 160 countries and regions around the world. In China, Soontrue is a famous brand and the machines are widely used in all the big tissue factories, with more than 70% of domestic market share. Innovation,Intelligence, efficiency and service are always what we are striving for, win-win situation with customers is our final goal!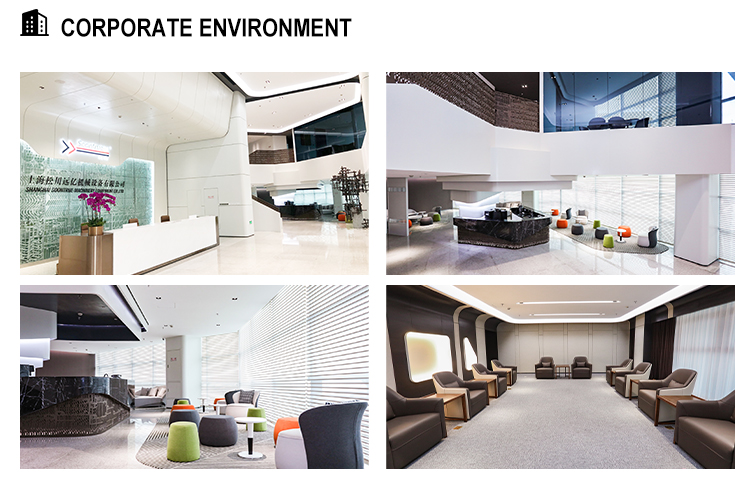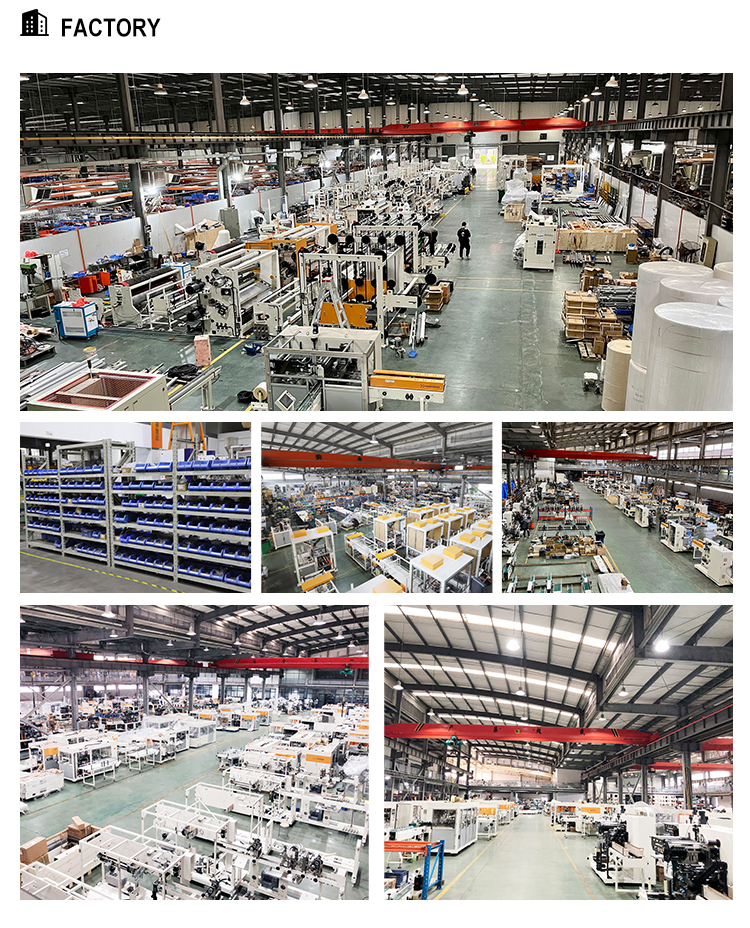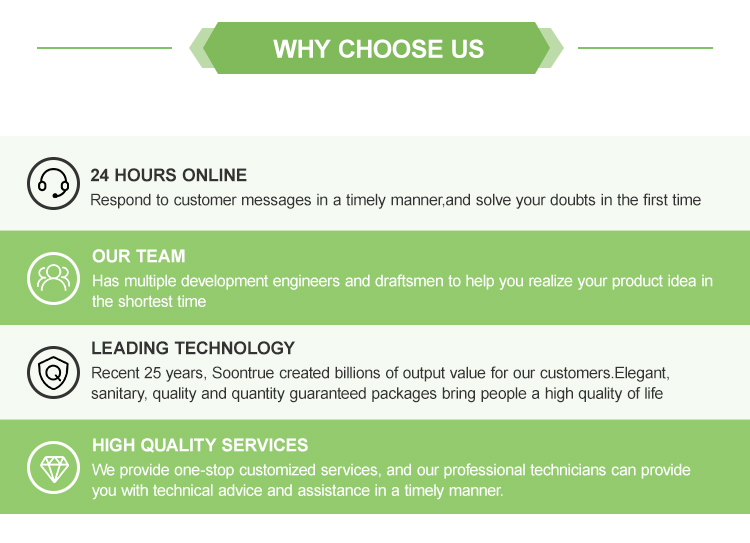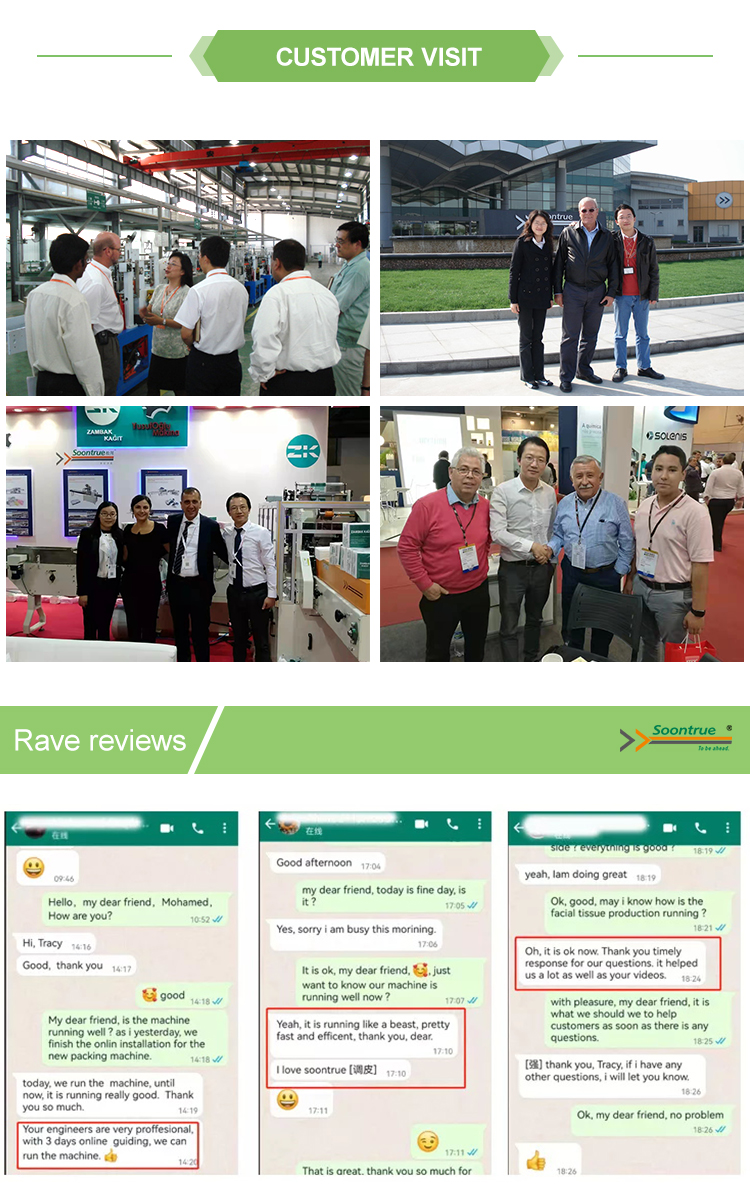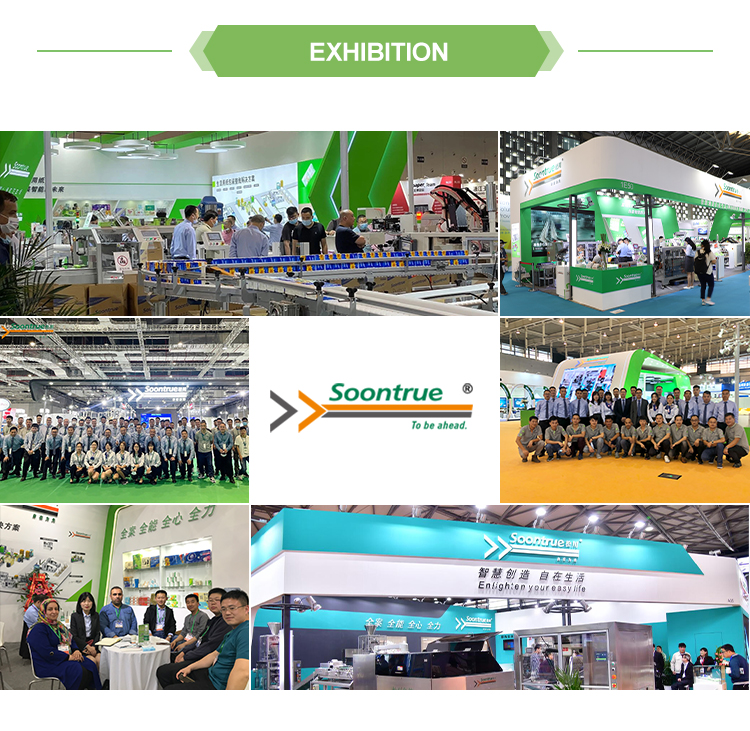 Q1: Can the same production line produce different tissues
Answer: It depends. For kitchen towel and household tissue, the crafts and materials are different, (the patten engraving depth is different), so patten embossing unit needs different ones.
Q2: I'm worried that I don't know how to operate your machine

Answer: Do not worry. Our tissue manufacturing machine is servo controlled, which greatly simplifies the difficulty of operation and commissioning. Most of the daily operation of the machine can be conducted by a few start-stop buttons and HMI. We can also provide instructional videos to give you step-by-step tutorial if necessary.
Q3: If I buy your tissue making machine, what technical support can I get?

Answer: Whether you buy a toilet paper making machine, a paper napkin making machine, or a facial tissue making machine, we will provide you with 24-hour online technical support. In addition, we can also provide you with instructional videos on the installation and daily commissioning and maintenance. For some customized tissue paper production line, our professional after-sales technicians can also provide on-site installation and commissioning services as per request (buyer should bear the cost for the service).
Q4: How do we build trust in the first business?

Answer: We believe that a win-win business must be based on our professional services and excellent products. Our team will fully study your needs, and clearly explain our products and solutions to you so that you can understand our services. We can take you to visit our modern factory through a video call, so that you can understand how your machine will be produced and let you know more about our products. Before delivery, we can cooperate with your partners to carry out factory acceptance test, or carry out acceptance through test video or video call. Make sure that the best tissue paper making machine you need is ready before shipment.
Q5: How can I find the suitable automatic tissue paper manufacturing machine I need?

Answer: We will fully communicate of the information of your tissue, including the width and diameter of the jumbo roll, pattern type, paper thickness, grammage etc.We have nearly 30 years of experience as a machinery manufacturer and can provide you with similar case videos for your reference.If necessary, we will ask you for samples of your tissue paper and packaging films for testing, in order to find the most suitable and cost-effective solution for you.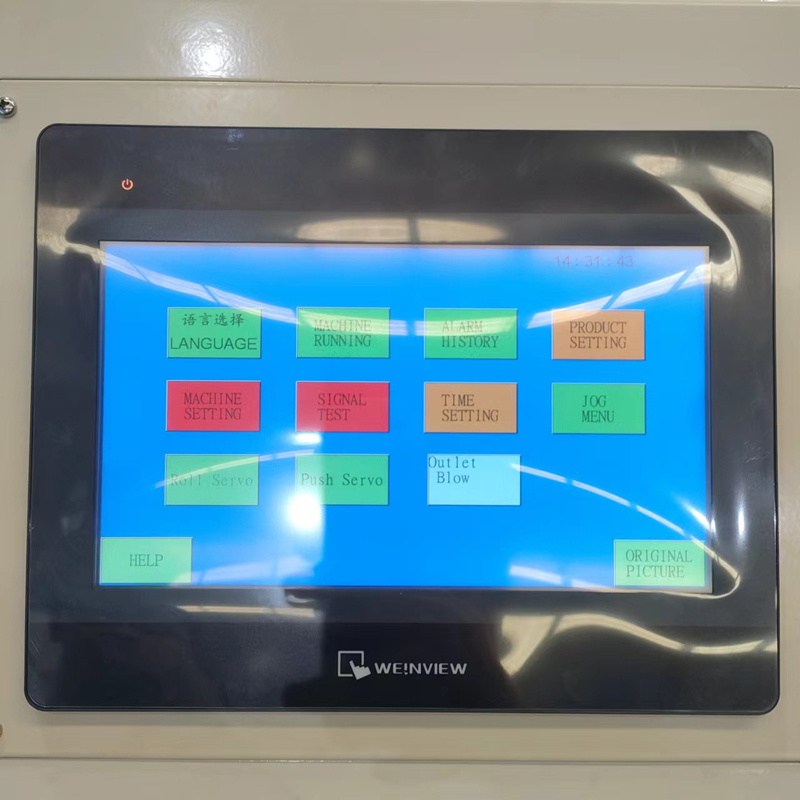 Big touch screen(HMl)
Easy for operation, clear working status indication, debugging is convenient and intuitive, multiple product parameters and formulations can be stored.
Photoelectric tracking system
Photoelectric sensor automatically detect servo tracking, automatic and accurate bag feeding, automatic alarm or stop when bag loss occurs.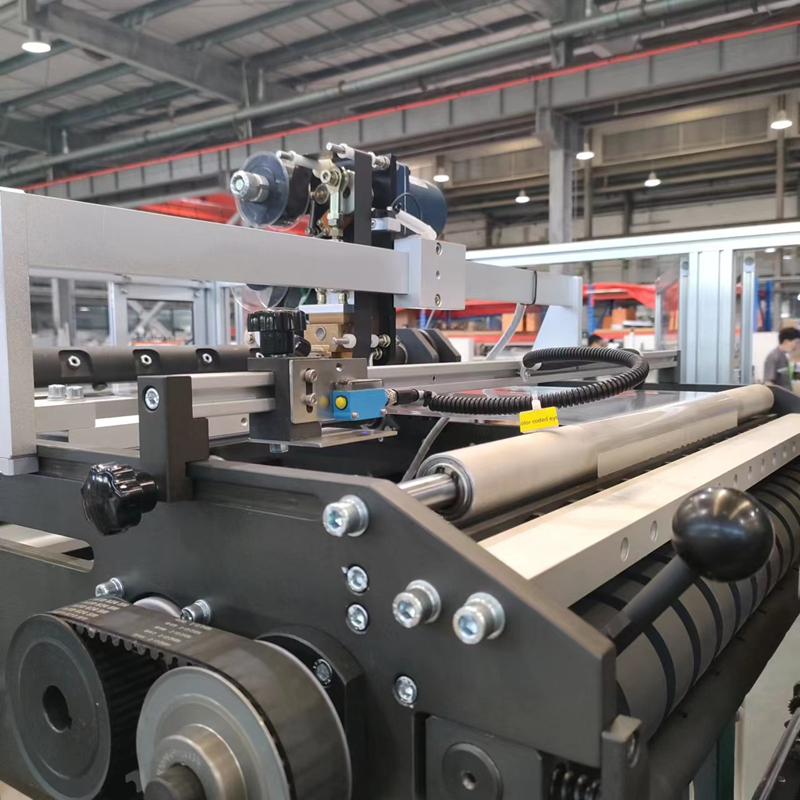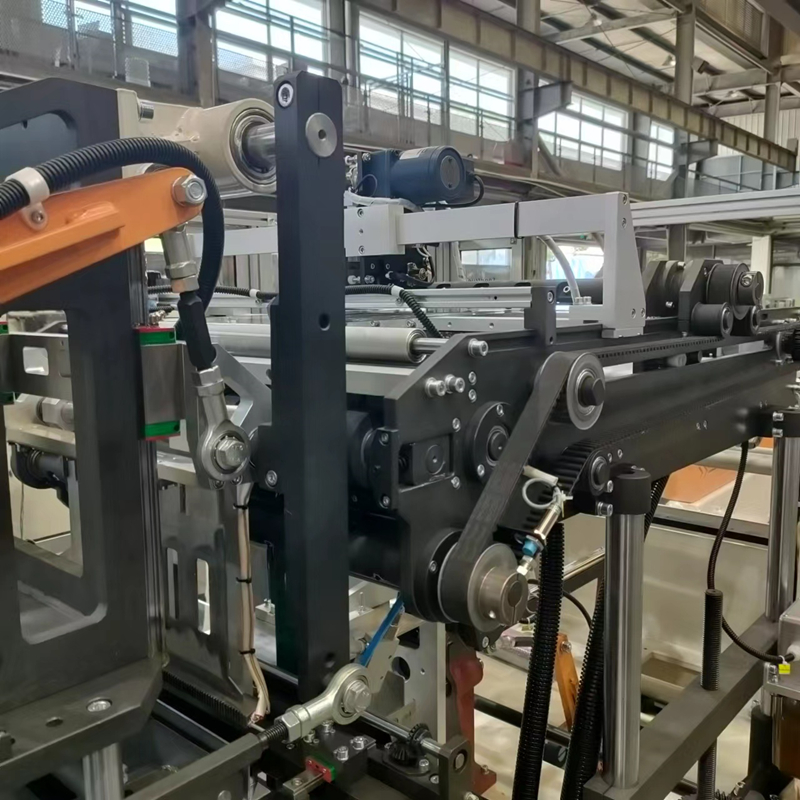 Optional introduction
Coding machine matching words + ink roll + control box
You can choose your own words to be arranged to join the dock, you can print the production date, validity period and so on
Lubricating oil pumps prevent rust of the machine's steel structure (Standard)
Copper alloy hot sealing cutter, after teflon treatment(optional), so that the cutter does not adhere to the packaging hot sealing film
Easy tearing dotted line knife,Straight line knife, arc knife, triangle knife and other tearing knife shapes can be used in this machine;
Unique film roll position
1. Motor drives the rollers, reduce friction, make the feeding film more smooth, bottom film bearing wheel + side clamp wheel, side clamp wheel advantage 1.The width of the film roll position can be manually adjusted
2. The position of the film roll can be fixed and Prevent film roll deviation from left and right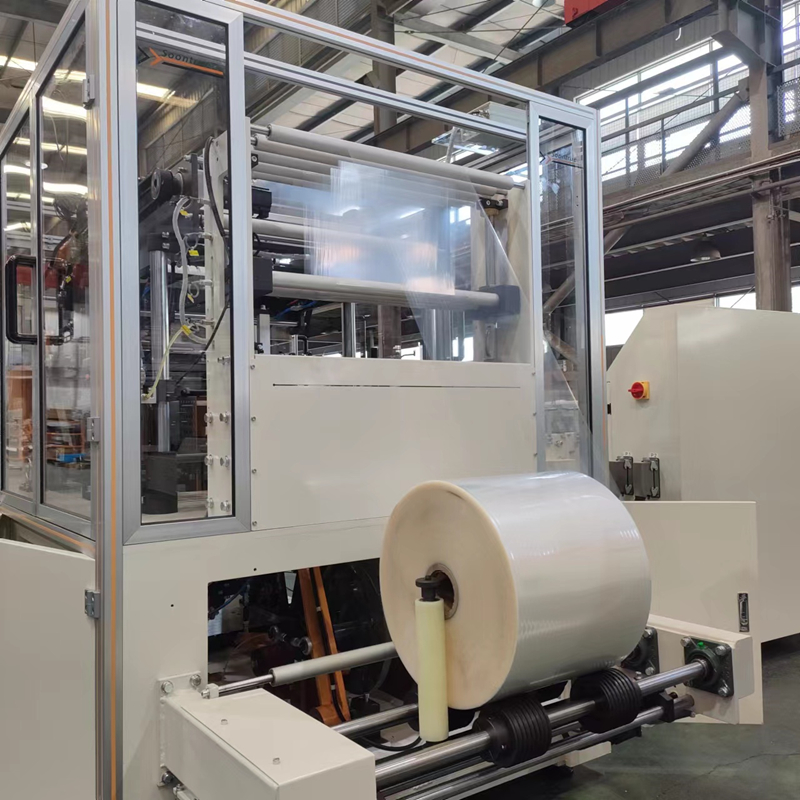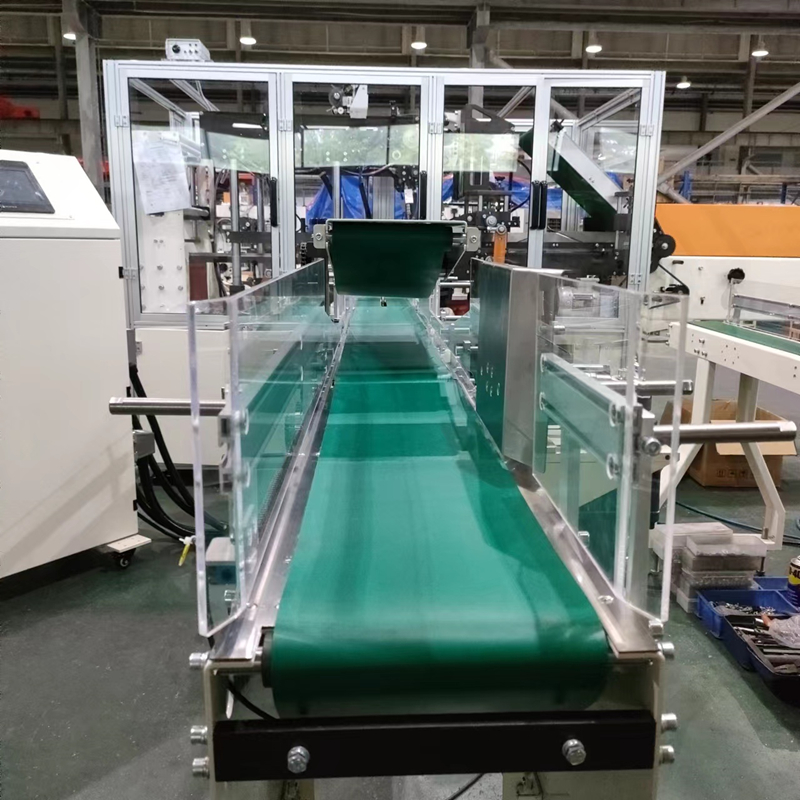 Feeding tissue Tidy device
This device can make folded facial tissue, napkin,hand towel... into the packing machine neatly, improve the packaging effect of finished products
Out-feed part
1. Machine with low center of gravity,so the whole rack is stable (20cm lower than the same equipment in the industry)
2. The discharge and transmission part adopts high temperature resistant belt, so it is stable and efficient, packing effect neat and compact, with shell protection, unique heating plate, make the temperature stable and adjustable, physical heat dissipation in the back section,will be really safe